Commencing construction when your project is still in engineering mode will almost certainly result in significant delays to the schedule with associated cost overruns, diminishing project momentum and morale. Unless the 'wiring'1 is fixed, wiring issues will persist throughout construction, magnifying schedule delays and cost overruns.
---
What to do about it – wire and coach
Wiring and coaching combine to quickly drive effective construction performance. Construction wiring (or management operating system) establishes the priorities, rhythms and routines of construction in a timely manner. Extensive coaching in the first few weeks accelerates the quality of construction management.
1. Getting the contract thinking and execution right
A key step for construction success is establishing the right partnerships. Many of the construction projects that we are brought in to assist with can trace their disappointing performance directly back to problems in this pre-contracting stage. The work here involves establishing which party is in the best position to manage key risks, understanding what type of relationship best reflects that position, how best to align motivations and create incentives that are indeed meaningful and focusing. We do not cover these aspects in this article, but are certainly very happy to share with you our experiences on this important foundation for construction performance.
2. Clarify roles
During the E to C transition the reporting lines and decision-making processes change. As a result it can be confusing for project team members, and accountabilities can be lost and misunderstood. Therefore it is critical to be crystal clear on who owns what, and when, before and after the transition takes place.
It should be noted that accountabilities differ depending on the engagement model undertaken by the owner's team. For example, an owner's team with a lump sum contract arrangement will have different accountabilities from those in an hourly-rate EPCM arrangement. Not all projects are the same, and accountabilities and their transition need to take into account both project deliverables and the contractual engagement model.
Responsibilities and accountabilities should be agreed upon between project teams using a RACI matrix. A RACI should include pre-construction, construction and commissioning steps as the roles of individuals change during these stages.
3. Install construction wiring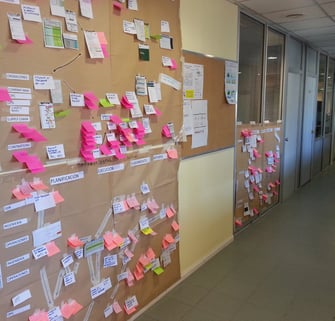 For construction projects to be managed efficiently, there is an interlocking system of simple, standard review charts (which can largely be updated manually and effectively installed in weeks, not months). This is needed for construction to progress smoothly and on plan.
In Engineering mode, drawings are completed 'by number', but in Construction, drawings must be completed in the sequence supporting the project critical path. In the following example, the tracker clearly shows drawings as a looming problem.
Off-track performance is immediately visible at the daily or weekly review with the accountable people, enabling corrective actions to be agreed, and monitored. Without the early warning system of the tracking and review process, unpleasant surprises inevitably occur. We help teams use techniques such as 'brown papers' (pictured) to identify the composition of essential meetings and reviews.
You cannot shift from Engineering to Construction without a commissioning plan which drives the construction schedule. It is critical that the commissioning plan is robust; the logic of the plan can be tested with a Construction and Commissioning Logic Block Diagram as described below.